HEBEI JUYUE POLYESTER FIBER CO.,LTD

TEL : 863-11853-15063 / FAX : -- / Mobile : --
tianshan Hebei Shijiazhuang China [CN]
Contact Name : Andrew
Homepage :
http://www.hebeijinying.com
Main Products
Recycled polyester , polyester fiber , regenerated PSF , PSF close virgin , close virgin PSF
Business Type
Manufacturer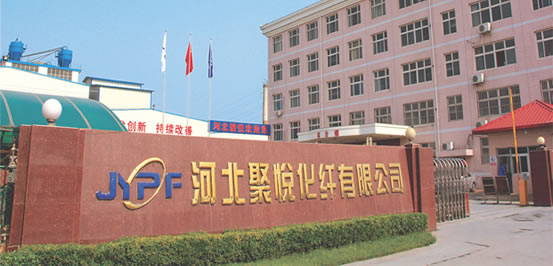 Company Advantage
we are the biggest Regenerated Polyester Staple fiber factory in north of china
Our products are warmly welcomed by customers, quality and price both are good.They are widely used in spinning, Non weaving, and filling etc... We recycle the PET flakes and bottles to produce fibers, bellow is the mainly list :

Polyester staple fiber close virgin type 1.4D*38mm
Cotton type raw white&increased white color 1.5D*38mm,1.5D*51mm 1.2D*38mm
Cotton type black color 1.5D*38mm
Woolen series increased white non-siliconed type 2.5D/4D/7D * 51mm
Woolen series increased white siliconed type 2.5D*51mm
Down like series and Asphalt felt fabic series 2.5D*61mm
Base Cloth series 2.5D*64mm
Detail Company Introduction
Hebei Juyue Polyester Fiber Co.,Ltd. whose predecessor is Hebei Jinying Polyester Fiber Co.,Ltd., established in 2001, changed to the current company name in 2009, is one of the earliest enterprises specialized in production of recycled Polyester Staple Fiber in the north of China, is extremely influential in the PSF industry in the north.
Our company is located in Dongyangling Village, High-tech Zone, Yuhua District, Shijiazhuang City, Hebei Province, China. With 150 acres of factory areas, more than 400 employees and four production lines for PSF, we mainly reclaim PET bottle flakes as raw materials to manufacture and process various specifications of PSF, which are used in different aspects, for example, spinning, fabric and filling etc.. Therefore, we are the environmental protection enterprise that accords with the policy of Chinese national recycled economics.
Factory Information
Factory Location

China [CN]
Factory Address
tianshan
Factory Size
30,000-50,000 square meters , Above 50 People
No. of Production Lines
6
Annual Output Value
Above US $100 Million
Trade Information
Total Annual Sales Volume
Above US $100 Million
Accepted Delivery Terms
FOB , CFR , CIF
Accepted Payment Currency
USD , EUR
Accepted Payment Type
T/T , L/C